Alien: Resurrection is episode 80 of Blank Check: Special Features as part of the Alien Franchise commentaries. Posted November 21, 2020.
Summary
[
]
More Alien franchise commentary! Griffin, David, Ang and a "sleepy" Ben got together for a late night zoom watch of Alien: Resurrection. From Ron Perlman's mug to Ripley playing basketball we cover it all!

The movie starts at...17:22[1]
Milestones and Ephemera
[
]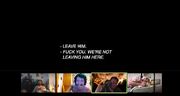 Introduces the Alien drinking game:
Someone doesn't listen to Ripley
Drippy pipe
Close up of alien teeth
Someone says "The Company"
Someone dies [2]
References
[
]
↑ Alien: Resurrection on Patreon. Retrieved November 22, 2020.
↑ @blankcheckpod on Twitter: "The official Alien franchise drinking rules we ran with. God speed." Retrieved December 20, 2020.