Ben Hosley (@benhosley on Twitter) is the producer of Blank Check with Griffin and David. He is a professional podcast producer, formerly for UCB Comedy and now for a variety of AudioBoom (Blank Check's main host site) podcasts.
Biography
He grew up in New Jersey and has referred to himself then as "a bad kid," noting that he purposefully liked to annoy his father, friends' parents, and other adults. Since then he has led a life rich with experiences, particularly living in New York City, and has many stories to tell. A number of Burger Reports consist of stories from Ben's time working at --CENSORED-- a Manhattan dining establishment that was frequented by fame-o's.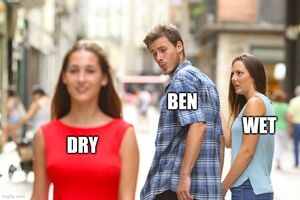 Ben is a great fan of obsolete technology, and thrills whenever it is featured in a movie under discussion. Examples include the Apple Newton, old-fashioned computer monitors, fax machines, and the like. He also likes big things, soakin' wet things(slick flicks), and vaporwave. Recently however Ben has shifted to from preferring soakin' wet things to being a Dry Guy.
When the show first began Ben has said he was living in a windowless room and then would go in to work at the UCB and record in a windowless broom closet - all the while listening to #TheTwoFriends talk for hours about Star Wars nonsense. These days, though, things are better all around.
Fans of Ben may sometimes refer to themselves as Hoz-Hogs.
Ben's Choice
Main article: Ben's Choice.
As a palate cleanser in between miniseries, the podcast sometimes records a "Ben's Choice" episode in which they ask Ben to choose a movie, usually one he saw frequently growing up, that will shake things up a bit as compared to their discussions of auteur director filmographies. In these episodes Ben takes over the role of host, and Griffin and David become his extremely talkative guests. See the Standalones miniseries page or the Episodes master listing for more info.
Other Ventures
Ben's interests are wide and include things like bones and chains. He is also the creative force behind Blank Check Pictures.
Music
He hosts a vaporwave based online radio show on kpiss.fm called VAPOR on Tuesdays at 10PM EST. In 2020 he released a vaporwave holiday compilation album called untitled slow christmas compilation volume 1. He released a follow up in 2021 called Slow Xmas. His production company is called Bone Sound, Inc. and their slogan is simply "KLONK!"
Fashion
Ben has a fashion line called Congratulations. He has also experimented with burying jeans.
Nicknames
Ben is known for having a variety of nicknames mostly given to him by co-host Griffin Newman.
These include:
Miniseries Nicknames
He has graduated to certain titles at the end of each miniseries. These include:
Rejected Nicknames
Some nicknames have been proposed and rejected or for some reason didn't take. These include:
Not A Temperature Queen, Osama Ben Hosley (alt. Usama Ben Laden), Benny Lane, Produery Ben, Doctor Crunchy, Fun Ben, the Peach Eater, Ben and Women Can't Be Friends
References