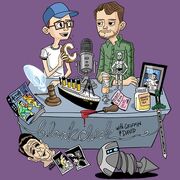 Blank Check: Special Features is the name of the Blank Check Patreon. The Patreon was launched in January 2019 with a $5/month patron tier. Some special features complement a main feed episode, while others are standalones or audio commentaries.
Summary
[
]
The Patreon was launched in 2019. On the 1st and 21st of each month, #thetwofriends post franchise commentary episodes. On the 11th they post an additional grab bag episode. They are sometimes additional episodes as part of the current miniseries, mail bag episodes, or other standalone episodes or events.
Special Events
[
]
Main article: March Madness.
Beginning in 2020, the two friends began conducting a secondary March Madness tournament for Blank Check: Special Features. The Patreon tournament is held in tandem to the main feed tournament to determine the next franchise for which they'd record commentaries. The inaugural winner was the Mission: Impossible franchise which began in June 2020. The runner up was the Alien franchise, which they covered beginning in October 2020. Commentaries for the winner of the 2021 bracket, The Twilight Saga, began in May 2021.
Episodes
[
]
Episodes 1-50
[
]
Episodes 51-100
[
]
Episodes 101-150
[
]
References
[
]