Bound is episode 52 focusing on the movie of the same name, as part of the The Podchowski Casters miniseries covering the filmography of the Wachowskis. Posted 18 Apr 2016.
Summary
[
]
Blank Check returns with another new mini series, this time examining the filmography of directors the Wachowskis. And like the past investigations (George Lucas, M. Night Shyamalan), Griffin and David aim to discover how did Hollywood go on to give these auteurs free reign and what were the consequences?

Starting with 1996's Bound, join the hosts as they discuss the greatness of Joey Pants, remembering the 90's, Gina Gershon and the Sam Simon connection, plus why cell phones have ruined cinema. [1]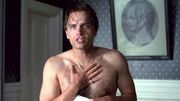 First episode of a new miniseries!
According to the Producer Joel Silver legend, the studio decided to make the untested Wachowskis prove themselves before they could be trusted to direct their big movie pitch The Matrix. So they made Bound to show that they could do it with style and flair, on a smaller scale.
And whoa, this movie is really good.
So Griffin and David sit down and examine the ways in which it's good and how it might dovetail with the Wachowskis' own personal narratives, as well as why its themes make it a landmark film. But with Jennifer Tilly and Gina Gershon operating at 110% on the VHS cover, how did this escape the pigeonhole of late night softcore on Showtime - or did it, really? Was this the last contemporary movie plot that was able to rely on landline phones without irony? How amazing is cinematographer Bill Pope? Who in the world is Joey Pants?
This is a tremendously strong debut film; listen on while Griffin and David give Bound its proper due.
Milestones and Ephemera
[
]
Joe Pantoliano's nonprofit for entertainers who suffer from clinical depression: No Kidding Me Too!
Young Griffin's preferred filesharing program: Kazaa
Ben's 90's Corner: reminiscing about Gina Gershon.
Burger Report - and a teaser for the next one, whoaaaaa
Future miniseries hinted at: James Cameron, Christopher Nolan
References
[
]