Chip Smith is a character played by David Sims.
Biography
Mr. Smith lives on the moon. Prior to moving to the moon, he was a journalist in Las Vegas. He was introduced in the Showgirls episode as a reporter for the Nude Reviews. [2]
He appeared as a robot in the March Madness 2021 Recap - Round 3 episode, claiming responsibility for the presence of bots in the tournament. He gifted David Sims some weapons-grade plutonium as a baby gift. The bot informed the gang that Chip will never die.
He collects celebrity skulls and bears a striking resemblance to Esky the mascot of Esquire magazine. [3]
During March Madness 2022, he hired En Hosley as his advocate through the promise of exotic bones. As part of the contract, Mr. Smith siphoned off the B in Hosley's name. Producer En shared that Chip has a 6D chess board in his house and that he's responsible for disposing of all discarded the moon-porcupines that Chip uses to take notes.
ChipCoin

[

]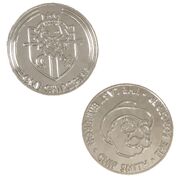 ChipCoin is a piece of merch/moon currency created by Smith. From the Blank Check shop:
You've heard of Bitcoin. You've possibly even heard of Dogecoin. Now, Moon Impresario and Agent of Chaos Chip Smith is issuing his own coin, and Blank Check is pleased to offer it to you! According to Mr. Smith, the coins have no value on Earth but can be used as tokens in his "forwards/backwards machine" on the Moon. Is he inferring that he's created a time machine? We cannot be certain. But we do know that these Chip Smith Coins will be a fabulous addition to any Blankie's collection.

("NO" CASH VALUE, NOT LEGAL EARTH TENDER)

2.25" high polished silver moon coin
double-sided
die struck
In the event of Lunar travel, Blank Check cannot guarantee successful usage of the "forwards/backwards" machine. Operate at your own risk.

Design by Dan Engler. [4]
Appearances

[

]
Special Features

[

]
References

[

]