Crouching Tiger, Hidden Dragon is episode 177 focusing on the movie of the same name, as part of the Podback Mountcast miniseries covering the films of Ang Lee. Posted 12 August 2018.
Summary
[
]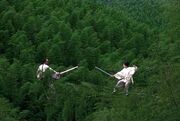 David Ehrlich (IndieWire) joins Griffin and David for an in-depth conversation on 2000's Wuxia epic, Crouching Tiger, Hidden Dragon. Together they examine the sweaty nature of the Police inspector Tsai and his daughter, eye performance, cave life and share James Schamus stories. This episode is sponsored by WeTransfer.[1]
David Ehrlich is back - and this time he's returned as a full-fledged Blankie, having listened to a large percentage of the back catalog of episodes since he was last on the show. Right on! And now he's in the studio to talk about - hot take - the best movie Blank Check has ever covered.
Was this movie ahead of its time in terms of empowerment narratives, even within its ancient-times fairy-tale setting - and is that why it seems to have aged so well in the culture? (Unlike the rest of the titles in the Box Office Game - yikes.) What do actual Mandarin Chinese speakers think about the recorded dialogue and the English subtitles - and the accents, for that matter? Is Lady Bird actually a remake of this story? Is Dark Cloud a videogame or what? And did Sony Pictures Classics ever learn how to wide-release a film?
Milestones and Ephemera
[
]
Gunning for the Blank Check Twenty-Five-Timers Club: David Ehrlich
Big fan of bandits with kerchief masks: Ben Hosley
"What dark thought would have inspired you guys to consider doing away with the best part of your podcast?" --David Ehrlich, on the prospect of retiring the Ben's Nicknames bit. Engrave them on a wall-hung plaque for the studio so the memorization doesn't stress out Griffin anymore. Or, hey, use the wiki if the wifi isn't out!
Griffin's impression of Randy Newman: ready for the MadTV reel
Merchandise Spotlight!
Also: Griffin might finally be a toy soon. December 2018?
Is that a new drop in the mix from Producer Ben? "Rosetta Stone" has an audio sample now?
Box-Office Game: Weekend of December 12, 2000
Sponsors
[
]
We Transfer lets you share big files - no sign-ins, no avatars, no offer codes, no cost! David quickly abandons a bit involving Ready Player One, which I feel is wise. We Transfer is easy and lets you quickly get back to your creative processes and making what you make, such as SOLID GOLD PODCASTS. Or that sweet love. wetransfer.com - you make, we transfer.
References
[
]