Jurassic World: Dominion Dominates Fandom Wikis - The Loop
Play Sound
"David" redirects here. For guests named variations of David, see the guests page
David Lawrence Sims (@davidlsims on Twitter) (born April 24, 1986)[1] is a film critic for The Atlantic, former television critic for the AV Club, and lover of smooches. He is the co-host of Blank Check with Griffin and David, and one half of #TheTwoFriends. 
Biography
Growing up, David spent some time in England, a fact that co-host Griffin Newman, producer Ben Hosley, and featured guests of the show often mock by pretending to be surprised due to how frequently this fact comes up. (This bit was briefly retired in late 2018 and then unretired in January 2019; see The U.K. Bit)
David is a fan of sports, especially basketball and the New York Knicks; he has also mentioned a penchant for gambling earning him the nickname "Money Monster."
David has a significant other (humblebrag) [2] who is sometimes referenced as a companion while watching the movies for the podcast; however, David says she greatly dislikes being mentioned on the show. He has a younger brother Joey Sims, who was featured as a guest for the Lost in Space episode of the podcast. David loves movies about space, as demonstrated in his love for Interstellar, Apollo 13, Alien and Lost in Space (as a child).
David is a big fan of the Fast & Furious movie franchise and has spent much time discussing the right direction and vision for the franchise, as well as other film properties. This also includes a revision of the pitch for Men In Black II which he devised together with Griffin Newman during the inception of their friendship, prior to starting the Blank Check podcast together. (That pitch is recapped in detail during the Avatarland/The Second Blank Check Mailbag episode.) David's extensive film knowledge often came in handy at Videology's Trivia Night, discussed often in Blank Check episodes.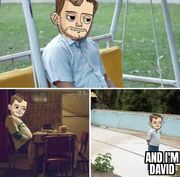 In the podcast, David is considered the 'straight man' of the two hosts due to his frequent need to redirect Griffin—who has a tendency to go off-track with sidebars—back on topic. He sometimes relishes in his role as the 'grump' on the show and seems to yell at Griffin, but hey, best friends do that sometimes—and he also frequently tells Griffin and Ben how much he loves them. He has on occasion loosened up and has his own goofy tangents and sidebars; within the fandom this has been known as the Dog (fans of David may sometimes refer to themselves as David-Dawgs) going off the leash. Griffin does the bulk of the podcast introduction, giving David an opportunity to pause for as long as he wants before he chimes in with "and I'm David."
Griffin mostly channels his nicknaming energy towards Ben Hosley, but early in the show's history he occasionally used two names he coined for his co-host. "A Very Tall Man" was self-evident due to David's height. "David 'A+' Sims" originated from Griffin and David's previous podcasting experience together on Talking TCGS and TCGS Afterparty, when Griffin noted that David had written a review of The Chris Gethard Show for the AV Club and given them an A grade. The AV Club is somewhat notorious for not giving out A+ grades except in extremely rare cases, so it is possible that the review would have been A+ if not for that limitation. Recently Griffin has also referred to David as "The Money Monster."
David has a complicated relationship with the character Forky. Initially when Griffin was completely smitten, David was against the character, tweeting things like "Forky is a cuck" and "Forky did 9/11." [4][5] By the time he saw the movie and reviewed it for The Atlantic, he wrote a review that was nicknamed "Ode to Forky." [6] He had changed his tune to such a degree, that the podcast nicknamed his then fiancée (now wife) "Forky."
David is a frequent guest on other podcasts. For more information on those appearances, see Outside Podcast Appearances.
Personal Life
In December 2017 after a visit to Avatarland David became the proud parent of a healthy bouncing baby Na'vi. In the Star Trek IV: The Voyage Home Commentary, he revealed that someone adopted a whale in his honor. This is the first anyone had heard of it, indicating he had likely fallen behind on child support and/or the subscription lapsed. The whale was named SOD which stood for "Scars on dorsal fin." According to whalewithnames.com, Sod was last spotted in 2003.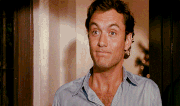 As of September 2020, David is married to Forky from Toy Story 4, making him her Karen Beverly. They previously resided at Big Nice and currently reside at Little Nicer. In February 2021, David and Forky welcomed a baby daughter! To announce the news, he used a gif of Jude Law from The Holiday proclaiming, "I AM DADDY." [7] His daughter's name is not Griffina Benducer Sims, but is potentially Untitled 2021 Marvel Film Sims. [8] She reportedly looks exactly like The Boss Baby.
Nicknames
The Dawg
CEO of Quibi
The Money Monster - this nickname came into play when the gang visited Atlantic City.
Stone Cold Sims
The Third Director of The Nutcracker and the Four Realms
Karen Beverly - the spouse of Forky.
The Kiss King - he revealed during the Ant-Man Commentary that Karen Han calls him this because of his love of kissing. He is not the king OF kisses.
Daddy Doggy/Doggy Daddy - a combination of his classic Dawg nickname and his new role as the father of the Boss Baby.
The Spreadmaster - given to him in the Talking the Walk 2021 episode, both because of his role in puttind all the picks into the spreadsheet and his long-time documented love of planning and tracking spreadsheets. He maintains a spreadsheet of all of his Oscar picks for every single year. He also tracks and plans all the guests for the podcast in an oft-referenced spreadsheet.
Second Base Sims, based on the position he played in little league. Coined in For Love of the Game at approx. 00:12:36.
References