Don Jon is episode 322 focusing on the sole directorial effort Joseph Gordon-Levitt—the 2013 film of the same name and a standalone episode. Posted May 2, 2021.
Summary
[
]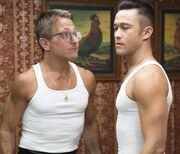 He's the kid from Third Rock. The Boy from Brick. The hitRECordjoe himself. Blank Check proudly presents a special one-film miniseries on the directorial career of Joseph Gordon-Levitt, so far consisting only of the baffling 2013 porn-addiction comedy DON JON. "The Boys" Sean Clements and Hayes Davenport of Hollywood Handbook join us as we ask the important questions, like, "Why does this movie not star Channing Tatum?" "How did he get ScarJo and Julianne Moore to do this?" "What is HitRecord?" [2]
Milestones and Ephemera
[
]
The text of the episode art reads: "My pod, my pad, my ride, my church, my boys, my cast".
Don Jon was the first Teaser Freezer on the very first episode of Hollywood Handbook. [4]
On the r/blankies subreddit, users posted their rankings for the JGL miniseries. [5] Unsurprisingly, Don Jon was rated first in his filmography.
Although there's plenty of talk in this episode about this being the first one-episode series for a director with just one film, Blank Check previously covered single-film arcs with Bradley Cooper's A Star Is Born and Genndy Tartakovsky's Hotel Transylvania (though HT covers multiple films in one episode).
Box-Office Game: Weekend of September 27, 2013
Quotes
[
]
GRIFFIN: It's so telling that they didn't make The Woman in Black which was a surprise hit, but they did make The Woman in Black sequel—Angel of Death.
DAVID: Which they foolishly did not call The Woman Back in Black.
References
[
]