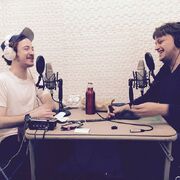 The hosts frequently invite friends, writers, artists, entertainers, and others who are enthusiastic to talk about films to be featured guests on episodes of the podcast. Alphabetically, the following people have made guest appearances on Blank Check.
Featured Guests List
[
]
Guests are listed alphabetically by last name. "SF" indicates a Blank Check: Special Features episode. "TTW" indicates an episode of the secret podcast.
Guest
Appearances
Demi Adejuyigbe
Lux Alptraum
J.D. Amato
Scott Aukerman
Kevin Baillie
Miriam Bale
Marie Bardi
Jamie Bell
Sarah-Violet Bliss
Jamelle Bouie
Jonathan Braylock
Rebecca Bulnes
Nicole Byer
Chris Cabin
Michael Cerveris
Justin Charity
Preeti Chhibber
Sean Clements
K. Austin Collins
Michelle Collins
Jason Concepcion
Olivia Craighead
Lenika Cruz
Valorie Curry
Nia DaCosta
Hayes Davenport
Mike Drucker
Rebecca Drysdale
Caitlin Durante
Bilge Ebiri
Ayo Edebiri
Avery Edison
David Ehrlich
Morgan Evans
Angela Ferraguto
Like Ben Hosley, Ang has become a regular contributor. She is a listed guest on these episodes:
Bobby Finger
Jordan Fish
Caroline Framke
Jon Gabrus
Joe Garden
Chris Gethard
Josh Gondelman
Karen Han
Aisha Harris

Ramona Head

Ashleigh Heaton
Dan Hernandez
John Hodgman
Fran Hoepfner
Jordan Hoffman
James III
Andrew Jupin
Elliott Kalan
Adam Kempenaar
Starlee Kine
Lola Kirke
Alejandro Kolleeny
Diana Kolsky
Peter Labuza
Rachel Lang
Josh Larsen
Richard Lawson
Elena Lazic
Mani Lazic
Jamie Lee
Andy Levy
Shirley Li
Jamie Loftus
David Lowery
George Lucas
Jason Mantzoukas
Dan McCoy
Clint McElroy
Griffin McElroy
Justin McElroy
Travis McElroy
Murf Meyer
Jerah Milligan
Chase Mitchell
Mike Mitchell
Layne Montgomery
James Newman
Peter Newman
Romilly Newman
Amy Nicholson
Larry Owens
Matt Patches
Louis Peitzman
Alex Ross Perry
Micah Peters
Kevin T. Porter
Connor Ratliff
David Rees
Joe Reid
Katey Rich
Joanna Robinson
Sam Rogal
Charles Rogers
Matt Rogers
Josh Ruben
Sara Rubin
Mike Ryan
Stephen Sajdak
Benji Samit
Rachel Sanders
Sonia Saraiya
Tom Scharpling
Paul Scheer
Dana Schwartz
Jourdain Searles
Peter Serafinowicz
Joey Sims
Matt Singer
Seaton Smith
Emma Stefansky
Dana Stevens
Eric Szyszka
Carl Tart
Ray Tintori
Paul F. Tompkins
Julio Torres
John Trowbridge
Emily VanDerWerff

Eric Vespe

Pilot Viruet

Scott Wampler

Lulu Wang
Lindsey Weber
Chris Weitz
Stuart Wellington
Nick Wiger
Patrick Willems
Alison Willmore
April Wolfe
Bowen Yang
Emily Yoshida
Esther Zuckerman
Guests Statistics
[
]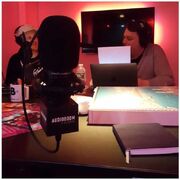 Thirty guests have made more than 3 appearances on Blank Check podcasts. Once a guest has made five appearances on the main feed they join the Five-Timers Club. #thetwofriends consider the Titanic episodes one single appearance, despite being two episodes.

Four guests have appeared on Patreon episodes but have not made an appearance on a main feed episode. They are Jordan Fish, Ramona Head, Alejandro Kolleeny, and Peter Newman.

References
[
]