Hotel Transylvania Trilogy is episode 174 that functions as a forum for Griffin to talk about the three (so far) Hotel Transylvania movies, and their director Genndy Tartakovsky. It is part of the Standalones episode grouping. Posted 22 July 2018.
Summary
[
]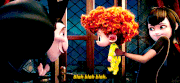 Griffin and David present a special episode covering the Hotel Transylvania films and tv series. But how do the monsters pay for staying at the hotel and do they ever leave? What is the recent history behind Sony Pictures Animation? Do the hosts open toys on mic and there is a bunch of dead air? Together they discuss Genndy Tartakovsky's career, zinging, blah blah blah and more. Plus, a Burger Report: Masterpiece Theater edition![1]
Sometimes Griffin throws a little tanty, and makes David and Ben watch all three Hotel Transylvania movies and talk for hours about them.
What is 'zinging' and is it problematic? Is the main setting of these movies really a hotel and how does anyone pay for their extended stays? Is it possible to go on a vacation from a vacation? And why is "blah, blah blah" funny anyways?
In addition, a discussion of mad genius Genndy Tartakovsky's amazing CGI animation innovations, and the tragic tale of Sony's handling of their rights to Popeye (look at Tartakovsky's test reel below, goodness me).... and for that matter, Griffin tells us what the heck the story is with Sony Animation.
Listen to Ben's story of his near-midnight moviegoing experience to see the new one, Hotel Transylvania 3, and his new friend he met there; listen to David tell us when it is okay to sit in the handicap-accessible seating at the theater; and listen to Griffin come tantalizingly close to explaining his "The Tick" dialogue-scene injury that left him broken and really sick.
Milestones and Ephemera
[
]
Sponsors
[
]
We Transfer - (what a transition to this ad!) Share files, for free! wetransfer.com
Hims - the perfect sponsor for these children's movies. Let's talk about adult male health and sexual issues! forhims.com, promo code BLANK
-
References
[
]