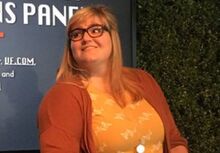 Joanna Robinson (@jowrotethis on Twitter) is a senior writer for Vanity Fair and host of several podcasts including Storm Of Spoilers, Little Gold Men, A Cast of Kings, Decoding Westworld, and Still Watching.
Joanna was a guest on the Minority Report podcast. If you see her on the street you might recognize her by her purple hair.
She is a big Game of Thrones fan and hosts two fan podcasts for the show: one spoiler-free, called A Cast of Kings (with David Chen), and one spoiler-filled, called Storm of Spoilers (with Da7e Gonzales and Neil Miller). The latter is a sister podcast to Fighting in The War Room, itself hosted by past and future guests Katey Rich, David Ehrlich, Matt Patches, and future guest Da7e Gonzales.