Josie and the Pussycats (also known as Josie and the Poddycats) is episode 162 focusing on the movie of the same name, as part of the Guest's Choice group of episodes; the Choice in this case was Angela Ferraguto's. Posted 6 May 2018.
Summary
[
]
This week is with special guest, Angela Ferraguto, associate producer and social media manager for this very podcast! And for this episode she picked 2001's satirical rock comedy, Josie and the Pussycats. But was Griffin a big Rachael Leigh Cook fan growing up? Did Beyoncé audition for this film? Who misses Last Call with Carson Daly? Together they discuss the careers of Rosario Dawson, Alan Cumming and Tara Reid, the Muppet Baby versions of themselves, and why this is a pitch perfect send up of the early aughts that only early aught kids would get. [1]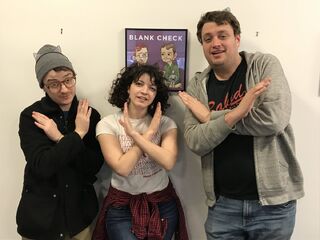 Thanks to Ang Ferraguto for social media... and for making her first guest appearance on the show!
Episode write-up to come later; for now I just really needed an excuse to post Pat Reynolds' totally awesome artwork.
Milestones and Ephemera
[
]
Harry Elfont, co-director of the film, tweeted his support of the episode. He wrote:

@HarryElfont: "Not sure why this is the season to podcast about a 17 year old movie but the gang at @blankcheckpod took it to another level. Two hours long! Subliminal messages! A recap of the opening weekend box office (ok I didn't need to relive that). Thanks @MagnaFarta and the guys!"[2]

Follow Ang on twitter, @MagnaFarta (five comedy points), and of course @blankcheckpod.
Sponsors
[
]
References
[
]