Line 6:
Line 6:
 

He is a child of divorce and queer [for pizza].<sup><ref>https://twitter.com/melvillmatic/status/1084823045347393538</ref></sup>

 

He is a child of divorce and queer [for pizza].<sup><ref>https://twitter.com/melvillmatic/status/1084823045347393538</ref></sup>

 

<references />

 

<references />

 
+

[[Category:Guests]]

 
+

[[Category:Podward Scissorcast]]

 
+

__NOTOC__

 
+

__NOEDITSECTION__
---
Revision as of 17:18, 14 January 2019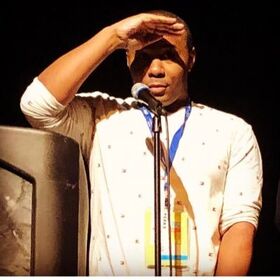 Kameron Austin Collins (@melvillmatic on Twitter) is a writer based in New York City. He was a staff writer and lead film critic for The Ringer until 2018 when he became a film critic for Vanity Fair. His writing has also appeared in the Los Angeles Review of Books and the Brooklyn Rail among other outlets, and he authors crosswords which have appeared regularly in The New Yorker and The New York Times.
Kam was a guest for the Batman episode of Blank Check. He was enthused to discuss how on earth Prince's world intersected with Tim Burton's pioneering superhero blockbuster, as well as discuss the differences between this era of superhero world-building and the later Batman movies and now today's Marvel universe; Jack Nicholson's acumen for lucrative deal-making; and some strong feelings on Spiderman's sexuality.
He is a child of divorce and queer [for pizza].[1]