Lust, Caution is episode 180 focusing on the movie of that same name, as part of the Podback Mountcast miniseries covering the films of Ang Lee. Posted 2 September 2018.
Summary
[
]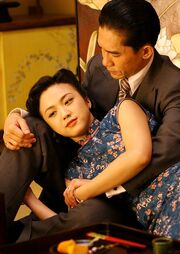 Director, screenwriter and producer Chris Weitz (Rogue One: A Star Wars Story, The Twilight Saga: New Moon) joins Griffin and David to discuss 2007's extreme erotic espionage period thriller: Lust, Caution. But what makes this NC-17 rated film a blank check? How was Tang Wei's career affected after the release of this movie? Did one of the hosts go through a Jessica Alba phase and can the listeners guess who? Together they examine green lights in Hollywood, scoring films, Wetflix and foregrounding the mahjong. This episode is sponsored by Hims and the Bechdel Cast on HowStuffWorks.

And check out Operation Finale staring Ben Kingsley, Oscar Issac and directed by Chris Weitz![1]
Director, writer, and producer - and Blank Check listener - Chris Weitz (Operation Finale) is in the studio to talk about Ang Lee's return to his native language, the eroticized period drama Lust, Caution.
Milestones and Ephemera
[
]
The second ever NC-17 film covered on the pod, after Showgirls.
Movie pitch that is going straight to the script phase: Ben Hosley's Night Eggs
References
[
]