We're Getting Mutants in the MCU - The Loop
Play Sound
March Madness 2018 Recap - Round 3 is episode 155 discussing the Blank Check March Madness 2018 event. It was released mid-week and filed as a Standalone March Madness episode. Posted 29 Mar 2018.
Summary
[
]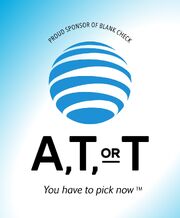 Another b-b-b-b-bonus episode recapping Blank Check's March Madness bracket! Who were the winners and losers? Who will make into the final 4? Is this still a spot on drivetime sports talk radio parody? Tune in to find out and remember to get in on all the action over at https://twitter.com/blankcheckpod! [1]
Drive-time sports-radio-talkers Griff "The Grip" Newman and David "Dawg" Sims (arf!) join their producer "The Fuckmaster" in the studio once again! It's a mid-week minisode to recap more results in the 2018 Blank Check March Madness event, from the end of the round 1 to the closing moments of round 3.
What should voters consider when casting their votes, according to David? What does Ben think about the professional implications, and what about The Fuckmaster's opinions on the remaining directors? How much does Griffin like having this difficult choice being out of their hands, delivered by the people?
The contract is still being negotiated, but David had an idea for incentivizing Meyers voters... will we all get to hear Romilly's Kitchen Korner in all seven episodes on the films of Nancy Meyers? Stay tuned for the exciting conclusion of Blank Check March Madness!
Milestones and Ephemera
[
]
Upcoming juggernaut miniseries - 10-parter on The Day the Clown Cried
Crass Joke Corner: in the studio is a Brest man, a leg guy, and a butt boy. Moving on.
Emma Stefansky: "What is it that Michael Mann fans call themselves... Men?"
Besson vs. Heckerling: Luc Who's Talking
Twitter: great website, never done anything wrong
Sponsors
[
]
A huge week for new sponsors! Dan Candyman rings the doorbell and stops in momentarily but Producer Ben reads off all the copy:
Shrimp Powder
FindMyMapApp
BOYZ Noise Canceling Headphones
AT or T
FoodJar
Cod Past (the book)
References
[
]