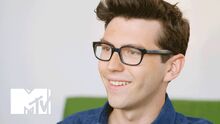 Morgan Evans is a comedy writer/director/actor currently living in NYC. He has been a contributing writer to The Onion, "The Late Show With David Letterman," "Weekend Update" on SNL, and The Huffington Post among others. He was also a segment producer on IFC's "The Onion News Network" and earned widespread praise for his web series "The Untitled Web Series That Morgan Evans Is Doing," which was nominated for a Writers Guild Award in 2013. He can be found on Twitter, @totallymorgan.
Morgan was a Blank Check guest on the Count Dooku episode of Attack of the Podcast. He was among the first guests on the podcast in its 'Griffin and David Present' days, and came up with the description of "flubber" while describing the confrontation between Yoda and Count Dooku in Star Wars Episode II: Attack of the Clones. The podcast has since adopted the term as shorthand for when CGI characters start moving in ridiculously unrealistic ways.
Community content is available under
CC-BY-SA
unless otherwise noted.