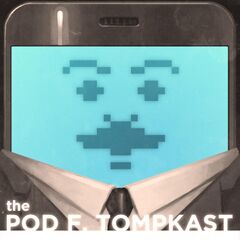 Paul F. Tompkins (a must-follow on Twitter as @PFTompkins) is an American comedian, actor, and writer. He is known for his standup comedy, prolific podcasting, and work in television writing & performing on Mr. Show with Bob and David, as correspondent and guest panelist on Real Time with Bill Maher, and writer/performer on Best Week Ever (later renamed Best Week Ever with Paul F. Tompkins after he became the regular host of the show).
Paul's forays into the burgeoning field of podcasting led to regular appearances on shows such as Comedy Bang! Bang!, Superego, and other comedy podcasts. He has also hosted many podcasts of his own including The Thrilling Adventure Hour, Spontaneanation, The Dead Authors Podcast, and the beloved Pod F. Tompkast -- whose title one might say set the template for Blank Check's individual miniseries names many years later.
Paul was a guest of Blank Check on the Mars Attacks! episode of Podward Scissorcast, and The Two Friends were downright honored by the presence of a luminary in their field. He had never seen the film before sitting down to watch it for his Blank Check appearance; he brought his usual charm and comedic touch to the episode, reevaluating a film that was considered an earlier failure by Burton.