Pushing Hands/The Wedding Banquet is episode 171 that doubles up with TWO films - the first two features in this director's filmography - as part of the Podback Mountcast miniseries. Posted 1 July 2018.
Summary
[
]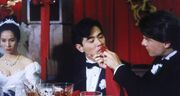 In the debut episode of our new mini series devoted to the films of director Ang Lee, Griffin and David start with his first 2 feature films: Pushing Hands and The Wedding Banquet. Join the hosts as they try to understand how these early attempts would affect Lee's future films, what kind of dynamic they would have in a marriage together and play back-to-back Box offices games. [1]
#TheTwoFriends discuss two Mandarin-language films that Ang Lee wrote and directed: his first feature Pushing Hands which was released in Taiwan, and his sophomore effort The Wedding Banquet which got a USA release.
Milestones and Ephemera
[
]
Sponsors
[
]
Dollar Shave Club
Hims
The Dumb People Town podcast
References
[
]