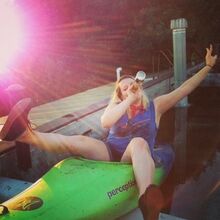 Rachel Lang was the second-ever featured guest on the podcast, appearing on episode #016 Romance during the miniseries Attack Of The Podcast. She said that the Anakin and Padmé romance was profound to her as a pre-teen but later in life its reputation in her mind had diminished. She was also on episode the Toruk: The First Flight after attending the live Cirque Du Soleil performance with #TheTwoFriends and her girlfriend. In addition she can be heard reading a fan fiction story together with Griffin during the #033 Watch With Us Live at Union Hall episode of Revenge Of The Podcast.
She was a former teammate of #TheTwoFriends at Videology's Movie Trivia Night, including one week where she coined the team name "William H. Macy's Thanksgiving Day Parade."
Rachel can be found on Twitter as @dirtypigeon - tweet at her about her unabashed love of composer John Williams, or about how much you love Pittsburgh, PA.