Jurassic World: Dominion Dominates Fandom Wikis - The Loop
Play Sound

Ralph Breaks the Internet (also known as Rec-It Ben: Ben Breaks the Podcast) is episode 194 focusing on the movie of that same name, part of the Standalones grouping of episodes and more specifically a Ben's Choice. Posted 2 December 2018.
Summary
[
]
A long-awaited new Ben's Choice episode!
This week on Blank Check is a discussion of BOTH the original Wreck-it-Ralph and the sequel Ralph Breaks the Internet. Together, Griffin, David and Producer Ben examine the history of Disney Animation sequels, Chekhov's Mentos, types of metals and the origins of Spies in Disguise. Plus, future friend-of-the-show John Hodgman (Vacationland) leaves a voicemail with a correction for the record.
As this episode was not prerecorded weeks or months in advance, Griffin and David took the opportunity to address some current movie-related news... but there were a couple of agenda items that were left on the table due to time overruns. Check out the episode on Big Eyes in a few months to maybe hear about those. Also, did we hear a strong implication that there will be an appearance by Ben's Dad on a future episode? Stay tuned!
Milestones and Ephemera
[
]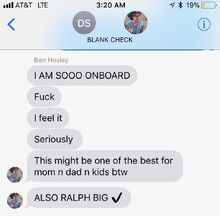 Rec it Ben
Producer Ben's 3am texts to Griffin & David while he was drunkenly discovering Wreck-It Ralph for the first time.
Get yourself a friend -- or #TheTwoFriends -- that you can communicate your innermost feelings with like this.
Griffin's impression of Jack McBrayer: he knows it's nowhere close
Sponsors
[
]
Brooklinen: Hey, Griffin finally cashed in and got his free sample, and now feels qualified to fully personally endorse their bedding: the best sheets he's ever had. And Griffin would know, since he likes to spend even more than 1/3 of his life in there when at all possible. www.brooklinen.com.... promo code: CHECK
Legacybox: convert your collection of analog media, family memories and videos and film prints and all of it! legacybox.com/check