This page covers all episodes that do not fall into the typical Blank Check miniseries, which cover individual directors and/or movie franchises. These episodes are non-sequentially sprinkled throughout the show, often in between miniseries, and are arranged into thematic groupings established by the hosts.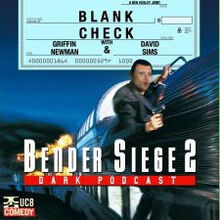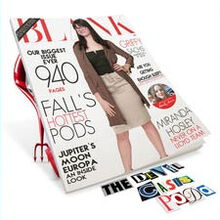 Ben's choice, also known as Guest's Choice, originated as a way to break up the miniseries, acting as a "palate cleanser." Co-hosts Griffin and David will hand over the keys to Producer Ben or another guest for an episode in between the director-centric miniseries. In these episodes, he nominally assumes the role of host and features Griffin and David as his guests.
Ben also selects the movie to review and discuss, often picking a movie he saw a great many times on VHS while growing up. These movies typically differ greatly in tone, style, and ambition from the titles that tend to be covered in most of the regular Blank Check miniseries'.
The show has also brought on the hosts' family members and other distinguished persons to be guests for an episode, where they get to select a movie which they feel a burning desire to discuss on the show. These episodes have served the same function in the show's episode lineup as Ben's Choice -- usually appearing in between miniseries to serve as a change of pace -- and therefore all may be considered part of the "Ben's Choice" branding.
The Annual Blank Check Awards
[
edit
|
edit source
]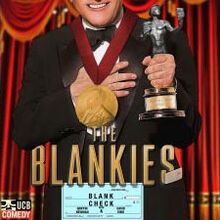 Griffin and David have an annual show with guest Joe Reid, film critic and fellow awards enthusiast, where they each announce and discuss their nominees and winners for several film categories in the past year. This yearly episode is usually posted in February shortly before the Academy Awards are given.
The Blankies, as the episode's awards are referred to, are given in several categories, including ones that match up well to typical film awards and others which are more... idiosyncratic. Plus there are Ben's awards!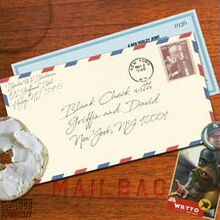 Once in a while, #TheTwoFriends gather up questions from Blankies, mostly via email and Twitter, to answer within an episode. Topics range far and wide. Typically David and Griffin will announce when a mailbag episode is coming up, and invite you to tweet or email them at that time with any questions you might have about the hosts or the production or the show in general.
Listeners can tweet them via @blankcheckpod, or email via blankcheckpodcast AT gmail DOT com.
#
Title
Audio
Guest(s)
Length
Date
112
The First Blank Check Mailbag
🔊
2:01
6/11/2017
139
Avatarland/The Second Blank Check
Mailbag
🔊
1:59
12/10/2017
Special Features
SF2
The Third Blank Check Mailbag/Hulk Live @ Alamo Drafthouse Downtown Brooklyn
🔊
James Schamus
1:32
1/11/2019
SF22
The Jericho Mailbag
2:05
6/10/2019
SF41
The Fourth Blank Check Mailbag
1:50
12/21/2019
Since 2018 the Two Friends have hosted a March Madness tournament for Blankies to select a director to cover on the podcast. The tournament is posted daily on the podcast's twitter. In 2018 Blankies voted for Nancy Meyers resulting in the Something's Podda Cast miniseries. In 2019 Blankies voted for Jonathan Demme resulting in the Stop Making Podcasts miniseries. In 2020 the theme was Oscars vs. Razzies and Blankies voted for Robert Zemeckis.
#
Title
Audio
Guest(s)
Length
Date
152
March Madness 2018 Recap - Round 1
🔊
0:26
3/15/2018
155
March Madness 2018 Recap - Round 3
🔊
0:17
3/29/2018
Special Features
SF9
March Madness 2019 Recap - Round 1
🔊
0:26
3/10/2019
SF11
March Madness 2019 Recap - Round 2
🔊
0:18
3/19/2019
SF14
March Madness 2019 Recap - Round 3
🔊
Alex Ross Perry
0:32
3/29/2019
SF50
March Madness 2020 Recap - Round 1
0:34
3/9/2020
SF52
March Madness 2020 Recap - Round 2
0:58
3/18/2020
SF54
March Madness 2020 Recap - Round 3
0:49
3/26/2020
SF56
March Madness 2020 Recap - Round 4
Chip Smith
0:38
4/2/2020
There are a few other standalone episodes that fit into no particular category. This grab bag of titles of course kinda runs the gamut.
Whether it's a newly released movie they wanted to cover because of a cultural emergency, or something to celebrate a milestone or event in the show, or if #TheTwoFriends just had something to cover after someone throws a 'tanty,' these are standalone episodes of the show.
When the rules get bent, sometimes things get crazy at the edges... I mean, check the sponsors during March Madness, or the Judging The Judge theme song. There are some all-timer moments in these outliers.
Patreon Standalone Episodes
[
edit
|
edit source
]
In addition to episodes that correspond to existing miniseries, the Blank Check: Special Features Patreon has focused on different franchises. Even so there are episodes that exist outside those series.
| Title | Audio | Guest(s) | Length | Date |
| --- | --- | --- | --- | --- |
| Kiss from a Rose | [1] | Emily Yoshida | 0:05 | 1/27/2019 |
| The U.K. Bit | [2] | Michael Cerveris | 0:02 | 3/24/2019 |
| Live at the Barclays Center | | | 1:59 | 5/11/2019 |
| Blank Check: Great Adventure | | | 1:18 | 8/11/2019 |
| BC takes AC | | | 1:44 | 9/10/2019 |
| Walking The Talk 2019: A Funeral For Frames | | J.D. Amato | 2:05 | 11/11/2019 |
| F9 Trailer - An Emergency Minisode | | Joe Reid | 0:07 | 1/31/2020 |
| THX 1138/American Graffiti | | | 1:32 | 3/11/2020 |
| Trolls: The Experience with Richard Lawson | | Richard Lawson | 1:48 | 4/11/2020 |
Community content is available under
CC-BY-SA
unless otherwise noted.