Starship Troopers is episode 148 focusing on the movie of the same name, as part of the Podship Casters miniseries covering the Hollywood years of Paul Verhoeven. Posted February 18, 2018.
Summary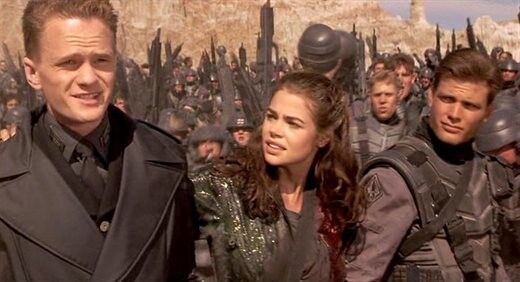 J.D. Amato (The Chris Gethard Show) joins Griffin and David to discuss 1997's bug war sci-fi, Starship Troopers. [1]
Past present and future guest J.D. Amato meets #TheTwoFriends to discuss Paul Verhoeven's 1997 sci-fi martial blow-em-up, Starship Troopers. Once again J.D. moves into a tie with Richard Lawson and Emily Yoshida for most Blank Check appearances... and he gamed it out to get a movie he's passionate about.
Has any movie in recent history undergone more of a critical U-turn than this one? This was also pretty much Verhoeven's first experience with large-scale CGI effects, even as he blended them with a little bit of practical visual stuff he was familiar with. It's nuts that the effects came out as well as they did considering how much they were figuring stuff out on the fly. But what about the story being told, and why does Verhoeven keep throwing all these scripts in the garbage before fishing them out and making them into movies?
The elephant in the room is the Nazi allusions and imagery. Did Verhoeven miscalculate his audience? What were his preferences in terms of casting, and how does Neil Patrick Harris fit in or stand out? How did this crazy Dutchman get a hundred million dollar budget after the Showgirls catastrophe?
Also Ben has a "theme song" for Futureball, Griffin has to take a break to go throw up some food that disagreed with him, and J.D. breaks in mid-show for his signature 'podcast-within-a-podcast' to apologize for his own Kuato impression. He does not apologize for the Watto, the Wario, the Kuatario, or the Nikki Glaser impressions.
Milestones and Ephemera
I LOVE MOVIES. Blank it? Thank it! (slap five)
Suddenly physically ill in the middle of the recording session: Griffin, blaming poutine from a bar
Normally unflappable J.D. Amato: flapped
A Denise Richards filmography entry: Looking Italian (see Lost In Space)
Twenty Years but More Italians (see The Book of Henry)
Why the army needs animators: "Private Snafu"
The Hero of Color City: starring crayons
Merchandise Spotlight!
Sponsors
This episode was sponsored by Serial Box. The Trix Rabbit stops in because he heard "cereal box," but David pitches him on the actual service - it's like the HBO of reading! The app delivers a new 'episode' of fiction in a serialized story every week. Readable on the screen or in audio form. It sounds interesting enough that the Lucky Charms leprechaun, the Cookie Crisp crook, Count Chocula, Boo-Berry, and even the Quaker Oats guy all run in to check it out too. serialbox.com/blankcheck for 20% off a subscription to the latest series, False Idols.