Talking the Walk 2021: Ranking the Walks is episode 123 of Blank Check: Special Features and their yearly installment of the Talking the Walk feature. Posted December 11, 2021.
Summary
[
]
J.D. Amato returns for Blank Check's annual Talking the Walk ep! For our 2021 edition, the gang is ranking the best walks in film history. What cinematic walks come to mind? Which characters had the coolest walks? What are the best walking movies? Join this 3 hour marathon and find out what makes the top 10! [1]
Milestones and Ephemera
[
]
New nickname for David: The Spreadmaster
A Blankie made a letterboxd list of all the films referenced in this ep.
The reddit thread also has a lot of good discussion about walks they missed.
The Walks
[
]
To make the list, #thetwofriends, Ben, and JD each introduced movies that David (the Spreadmaster) added to a spreadsheet. To advance to the final round and ranking, a film had to get unanimous approval from the group. David read the list and everyone would raise their hands to vote for a walk.
The Top 10 walks
The walks had to be specific walks within a film. If the movie was about walking, those movies often got punted to the top walking movies category.
The Top 5 Walking Movies
The Lord of the Rings Trilogy (2001-3)
The Wizard of Oz (1939)
Midnight Cowboy (1969)
The Before Trilogy (1995, 2004, 2013)
The Warriors (1979)
The Top 5 Movie Walkers
Charlie Chaplin
Jacques Tati
Pam Grier
Bruce Lee
Arnold Schwarzenegger
Merchandise Spotlight
[
]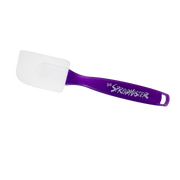 As with all the Talking the Walk episodes, there is a special piece of tie-in merchandise. This year it is a purple and white spatula called "The Spreadmaster" in honor of David's new nickname and role as purveyor of all Blank Check spreadsheets.
References
[
]