The Walk is episode 304 focusing on the 2015 film of the same name as part of the Podcast Away miniseries on the films of Robert Zemeckis. Posted December 27, 2020.
Summary
[
]
In 1974 Philippe Petit performed his infamous walk between the Twin Towers. Director Robert Zemeckis many years later after discovering the story in a children's novel would create a 3D film based on this event. But most importantly in 2018, J.D. Amato appeared on Blank Check to discuss the motion picture technology of Billy Lynn's Long Halftime Walk. Continuing in that tradition, J.D. returns for the third annual Talking the Walk. But this time instead of high frame rate, J.D. explores The Walk's cutting edge use of visual effects.[1]
Milestones and Ephemera
[
]
Griffin's initial review after seeing it in theaters: stinky poo poo.
Robert Zemeckis was unfamiliar with the true story of Philippe Petit, but was introduced by a picture book. That book was likely the Caldecott Medal-winning The Man Who Walked Between the Towers by Mordicai Gerstein.
Quotes
[
]
JD:The other thing I want to say about Free Solo is that as a kid I liked Free Solo the most because of Jabba the Hutt and Salacious Crumb and the Ewoks—
GRIFFIN: Wait a second...
JD:—but when Solo gets captured, that movie, it ends on more of a downer. But there's a lot of good stuff in there.
Riddles
[
]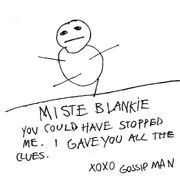 Throughout the episode, JD rang a bell and recited riddles. The answers would provide adequate clues to find a secret interview he recorded, without the knowledge of either Griffin or David. At the end of the episode, he provided an envelope that had a drawing and a note, which was made into a t-shirt to celebrate Talking the Walk 2020.
Riddle 1
The first word is simple. It's barely a clue.
It's the thing we start doing at just about two.
The name of a render that blazed this film trail
Betrays the friend's promise that makes them pro-Bail.[2]
Riddle 2
Next is a word that Whitney did miss
In Vertigo, West World, but not Muren in the Abyss
If Travis B. Welker pulled a prank on this word
Its change would at least be beautifully heard.[3]
Riddle 3
Andre and A stained opposite of day
Did the next word on screen, kinda first, you could say.
While George dreamed to do this on the face of a man,
Neil did it for real, or perhaps, just with Stan.[4]
Riddle 4
Drop P.W.'s lady's phonetic E
Add the thing you might use to catch a hummingbird or kitty.
The Diner's Owner in Mainframe,
And this might sound crazy,
Sid's take on Beale, but make it more lazy.[5]
Riddle 5
I know you're eager, and don't want to wait,
But I have bad news, we did lock the gate.
You now have the spot, but how to get in?
It requires reflection, but not Fong or Blin.
It's simple indeed and requires no honor,
Just the first two words spoken by Brian Connors.
With that you'll be in, dancing like Ellen,
Shawshanking yourself out of a Suftan Heaven[6]
References
[
]