We're Getting Mutants in the MCU - The Loop
Play Sound
The Weight of Water is episode 132 focusing on the movie of the same name, as part of the Pod-19: The Widowcaster miniseries covering the filmography of Kathryn Bigelow. Posted October 22, 2017
Summary
[
]
Karen Han (Slashfilm) and Emma Stefansky (ScreenCrush) join #thetwofriends to discuss 2001's confused thriller, The Weight of Water. But what is the weight of water exactly? Was Elizabeth Hurley really ever a punk? Does Producer Ben get annoyed during the recording of this episode? Together they discuss Karen's boys, love rhombuses, faking birthdays and their thoughts on mother![1]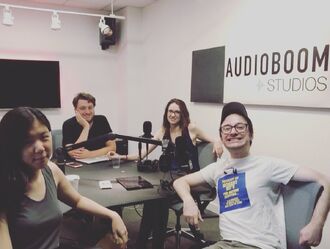 The time has come, the movie that left Griffin and David hesitant to covering Bigelow, The Weight of Water. To sweeten the deal to get people to listen to an episode about this movie, #thetwofriends invite another pair of close friends, Karen Han and Emma Stefansky. They have a similar dynamic to our boys with Karen liking to start comic bits that irritate the taller partner. Han has started a Film Twitter trend called "Karen's Boys", typically older men that she posits can get it. Ciaran Hinds in this film is discussed as a good candidate.
After Strange Days proved to be a massive financial failure, Bigelow wasn't a sought after commodity as some thought she would turn out to be after the box office success and continuing cult following around Point Break. So Bigelow scraped some money together and went indie to produce this adaptation of the 1997 novel with the same (definitely very great) name. Like its title, it is the exact embodiment of a parody of a sappy prestige drama; with Griffin noting that this is what he thought adult movies were when he was 13. He at the time found it "a little too adult" when he saw a trailer for the movie before a showing of One Hour Photo opening night at Lincoln Square with his father.
But why is Catherine McCormack so obsessed with trying to find the truth behind a murder that happened over 100 years ago? She is a journalist bumbling around on a boat with three others cutting between a 19th century period story line in the time and place where the murder happened. A movie discussed almost as much as this one is the recently released Kingsman: The Golden Circle with Karen calling great fun arguing with David who thought it was bad with Griffin falling somewhere in between.
"Is Matthew Vaughn Verhoeven?" -Griffin after seeing Kingsmen: The Secret Service
"Is Matthew Vaughn McG?" -Griffin after seeing Kingsman: The Golden Circle
Despite having four people on mic to discuss the movie, David prods Producer Ben on being visibly checked out, to which Ben shared that he fell asleep 10 minutes into watching the movie and didn't pick it back up before recording the episode.
Milestones and Ephemera
[
]
References
[
]